Chiwara from Mali
A carved wooden zoomorphic ritual artifact representing a roan antelope (Hippotragus Leucophaeus) and used in initiation rituals primarily associated with agriculture. Chiwara translates as laboring wild animal.
This one, purchased in Africa in the 1950's, was subjected to mold growth after a flood and also had a great deal of surface dirt and damaged elements. Because it has a high center of gravity and a wobbly flat basket-ware base, it fell over and broke one of the horns.













Hepa vacuuming performed outside to remove the scattered hyphal fragments of the identified mold colony and scattered spores. Testing revealed three different types of mold.




The base was reinforced with screws to realign the wooden carving and add stability. Fishing weights were attached with mono filament thread to the inside of the basket and to lower the center of gravity.



Teddy Bear Restoration
with Keara Teeter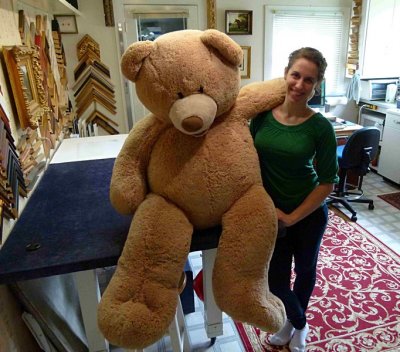 Our former intern, who has now completing her graduate
studies in art conservation at Winterthur, Delaware,
employed her textile conservation skills on a family treasure.
Rebecca the Water Bearer
Click to view
This plaster of Paris stature was given as a wedding gift in 1910 and brought to us in 72 pieces by the 84 year old daughter of the owner.
Diablada from Bolivia
Diabladas were originally figures constructed by Peruvian and Bolivian peasants to protect themselves when enslaved and forced by the Spaniards to work in the silver mines. Mid 20th c. Attributed to Antonio Viscarra.
Kashmir Tray
Click to view
Indian decorative tray constructed of a laminate over bronzing powder and ink on press board.
Marionette
Click to view
This 19th c. marionette suffered decay from termite infestation at the shoulder causing the right arm to separate from the body.
Gharkey House
Click to view
The Gharkey House, owned by a former Mayor of Santa Cruz, suffered water damage to the ceiling in the parlor after the 1989 Loma Prieta earthquake.